Faye Wong and her second husband, Li Yapeng sent shockwaves through the Chinese Entertainment Media on Friday, 13th Sept 2013.
She announced their plans to divorce after being married for 8 years since 2005.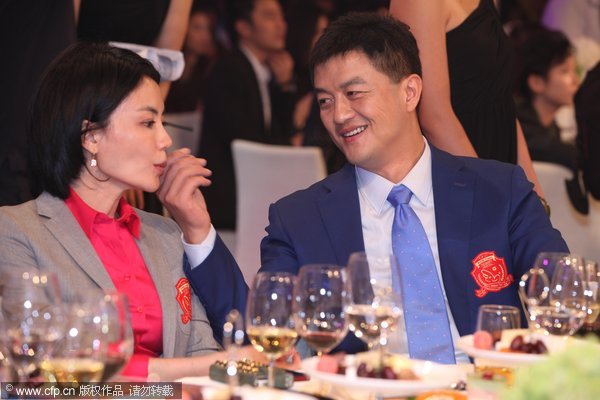 Faye had posted on her Sino Weibo page (Similar to Twitter, but in Mandarin) at around 7.30pm on Friday.
"This is what we have got now. I am all OK and please take care," Wong posted.
"Our destiny as husband and wife ends here. I'm well. You take care, too." Wong posted.
Li later confirmed the news on his micro blog, posting: "I wanted a family, but you are a legend. I miss the good days we spent together over the past 10 years."
The 41-year-old also said their daughter Li Yan will live with him, and there are no disputes over property issues because they have remained financially independent since they wed.
Li also said: "I still love you like I did before. Letting go is the only thing I can do for you now. I hope you are happy."
They have a daughter, Li Yan, who had a severe cleft lip.
Li Yapeng who is 41 (Year 2013) and two to three years younger than Faye, 44, will continue to take care of their daughter, Li Yan, who is currently 7 (Year 2013).
More Photos of Faye and Yapeng in Happier Times:
杨澜访谈录-王菲 李亚鹏 将爱情进行到底
Yan Lan interviews Faye Wong and Li Ya Peng on his coming movie and her Weibo Tweeting Habits
2011, January 9
Summary of Faye's Relationship Journey:
Faye was formerly married to Dou Wei  around 1996.
They divorced three years later and have a daughter  named Dou Jingtong, who is now 16 ( Year 2013) and living with Faye.
She was also romantically involved with Nichloas Tse from 2000 to 2004.
She has divorced her second husband, former actor turned businessman, Li Yapeng, in 2013.
Faye and Yapeng's Comprehensive Relationship Matrix from http://ent.ifeng.com